Established in Sydney over 50 years ago, Ramsay Health Care is a global hospital group that operates over 220 facilities across Australia, United Kingdom, Indonesia and Malaysia. Offering a broad range of health services from general consultation through to complex surgery, Ramsay Health Care employs 60,000 staff, treating over 3 million patients a year and has over 25,000 beds globally. As Australia's largest private hospital operator, and one of the top five in the world, Ramsay Health Care is a leading and respected provider that delivers high quality patient outcomes, combined with an excellent record of hospital management across a wide range of international healthcare systems.
Over the last 10 years, Wollongong's proximity to Sydney has attracted a steady stream of new residents drawn to cheaper house prices and a slower pace of life. Although popular as a destination for young families and retiring Sydneysiders, the city also has a thriving student population, with the award-winning University of Wollongong attracting students from across the globe.
With this continued growth, there became a distinct requirement for a world class medical development to serve the wider metropolitan area, replacing the old facility that had gradually became rundown and dated. Donald Cant Watts Corke were approached to help facilitate the development, which first and foremost needed to serve an increasingly diverse population with different facets of specialist healthcare all under the one roof.
Donald Cant Watts Corke provided project management and quantity surveying services on the project, which included project management and cost management services on the initial build of the facility.
"An extremely high quality of services installation and finishes was achieved throughout the hospital while accelerating the construction program to provide early access for the client months ahead of contract program, at no additional cost." (Master Builders Association NSW Excellence in Construction Award)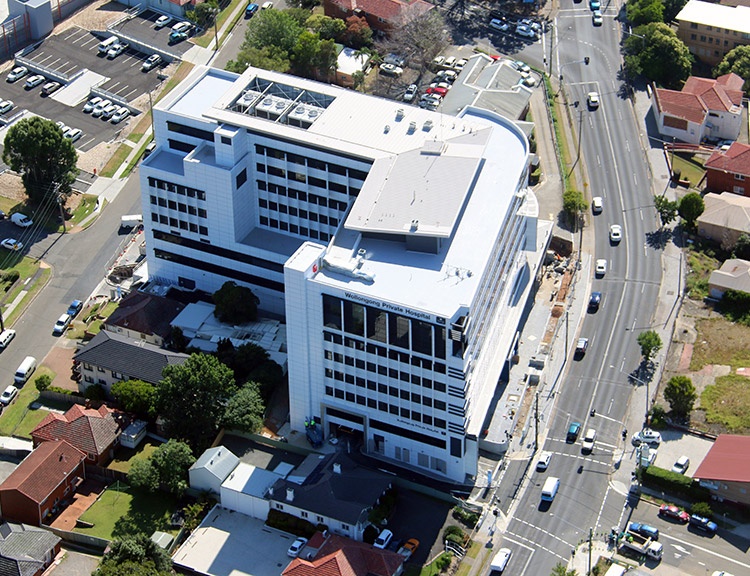 Completed in 2015, the Wollongong Private Hospital is a state of the art health facility in the heart of the Wollongong medical precinct. The eight-story development will deliver major health services to the area with 151 beds, nine operating theatres, a cardiac catheter laboratory, day oncology unit and radiology unit. Retail tenancies will be included on the ground floor unit fit-out.
The hospital has become a major employer of highly skilled staff in Wollongong, attracting specialists and professionals to offer an increased range of new health services for the community. Anticipating growth in the Illawarra region, Wollongong Private Hospital will employ over 500 people to meet the overall healthcare demand.
As a result, the increase in different healthcare services in one location has diminished the need for residents to travel to Sydney for specialist treatment, further improving the quality of life for the Illawarra community.
The Strategy / Solution:
The Wollongong Private Hospital posed a number of challenges to those involved in the project. A complex procurement process, funding constraints, parking and traffic issues, and a constrained "L" shaped development site combined to require a truly unique skillset. As a result, Donald Cant Watts Corke was selected by Ramsay Health Care and AA Crown Holdings because of their track record on providing specialists' skills and experience across a range of industries for similarly complex projects.
Donald Cant Watts Corke managed the clients' requirements by achieving essential formal sign-offs at masterplan, concept, schematic and design development stages and provided the design and construct procurement strategy for the initial build and fit out of the building. In addition, Donald Cant Watts Corke applied their expertise to ensure a seamless relocation of Ramsay Health to the Wollongong Private Hospital ahead of schedule.
The project has been praised for its high quality services installations and the accelerated contract program which allowed the client early access for commissions and hospital liaisons.
In 2016, the Wollongong Private Hospital Development won the award for Health Buildings at the Master Builders Association NSW Excellence in Construction Awards in the $30M to $100M category.


Key achievements:
An award-winning project was completed ahead of schedule and on budget with the client gaining access to the facility early, at no extra cost.

The Wollongong Private Hospital is a showcase example of industry leading practices provided by Donald Cant Watts Corke.

Residents of the Illawarra region now have access to increased health options and services that include:
Eight storey development with an additional three levels of basement parking for 317 vehicles
151 medical, surgical and maternity inpatient beds
Nine operating theatre suites
Cardiac Catheter Laboratory
Day Oncology Unit
Radiology Unit
General practice, diagnostic, clinical and allied health tenancies, specialist medical consulting suites that complement the Private Hospital and provided an integrated healthcare community
Approximately 5000m2 of tenancy
Radiology Tenancy
Nuclear medicine
Pathology
Pharmacy
Ancillary retail tenancy floor space.
"Donald Cant Watts Corke is proud to be a community partner; with the opportunity to contribute to much needed regional health services, on time and on budget."