2017 has seen Donald Cant Watts Corke work with leading private and government entities to deliver some of Australia's most exciting construction projects. From state-of-the-art health and education facilities to cutting edge commercial and industrial projects, we have added some very unique developments to our portfolio this year.
It is clear that developers and builders are becoming increasingly focused on creating buildings and infrastructure that are not only highly functional and aesthetically pleasing, but also environmentally sustainable and technologically integrated. Developers and builders are becoming more mindful of how people work and live; to create spaces and environments where communities and individuals can thrive. Some of the highlights include:
Calvary Bruce Private Hospital
The highly anticipated Calvary Bruce Private Hospital in Canberra officially opened in September 2017. Donald Cant Watts Corke undertook Project Management and full Quantity Surveying services for the new $77 million hospital in Canberra.
The hospital has 96 beds with possibility for expansion to 118 beds, including a 12 bed post-natal suite and eight-bed critical care department; eight state-of-the-art digitally integrated theatres, including one hybrid cath lab, accommodating everything from day procedures to complex surgery.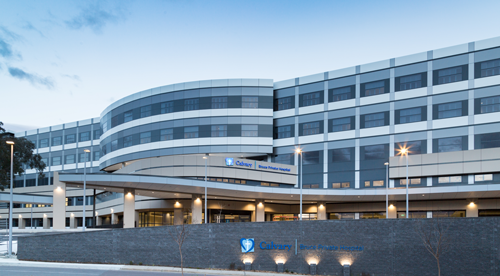 With phase 1 complete, Monash Children's Hospital opened in April of this year; phase 2, paediatric intensive care, and phase 3, mental health services, are also set to be completed in early 2018. The hospital comprises 230 beds, including 30 neonatal intensive care beds; operating theatres; rehabilitation areas; allied health therapy spaces; and a diagnostic imaging suite.
Donald Cant Watts Corke provided full Quantity Surveying services for the project which utilises the most advanced medical equipment and is Victoria's only hospital to provide foetal surgery and thalassemia treatment. As a result of stringent Cost Management, our team is proud to have yielded significant tender savings which were re-invested back into the project.
RMIT New Academic Street (NAS)
Donald Cant Watts Corke successfully completed the New Academic Street (NAS) project at RMIT University's Melbourne CBD campus. Over a five year period, Donald Cant Watts Corke provided Project Management, Superintendent and Tenancy coordination services.

The Project involved the transformation of four buildings which were refurbished and opened to the city streetscape. We worked to develop interconnected learning spaces, outdoor terraces, laneways and light wells, all with efficient walkways between the floors; offering a student experience with high quality standards of interactive learning.
Melbourne Lord Mayor, Robert Doyle officially opened the facility with RMIT Vice Chancellor Martin Bean, on 20 September 2017. The opening also celebrated the anniversary of 130 years of RMIT; and was a great way to launch the completed project and handover the new spaces to eager students.
To explore more of our recent projects, visit our projects page.